The Story
The Altmore House apartment complex first came to our attention in Electric Ireland Superhomes in June, when the residents faced an unexpected disconnection from their gas supply provider. As autumn approached with impending temperature drops, these tenants found themselves in urgent need of an alternative heating solution. Upon being informed of the unfolding situation in the apartment block, we promptly started to answer customer calls asking for a consultation.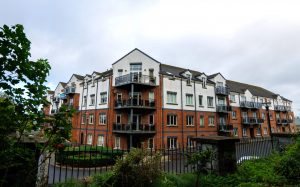 At the consultation phase, we had the opportunity to engage with a diverse group of homeowners and landlords, all grappling with the decision of their next steps. The current option on the table was the installation of electric heating, resulting in a BER rating of C1 and a less efficient system. Our proposal was to install an air-to-water heat pump to cater to their hot water and space heating requirements.
The key advantage of this solution was that it required minimal insulation upgrades, and with their gas supply disconnected, the process involved swiftly replacing their current boiler and water tank. The focus of our offer was to put forward a solution that focused on minimising disruption for all homeowners and tenants alike, making the One Stop Shop process simple and less hassle all while providing a highly efficient air-to-water heat pump system. In this case study, we'll present to you one of the homeowners who choose to retrofit their apartment with Electric Ireland Superhomes.
The Apartment
Bought 20 years ago, the apartment had originally a gas LPG system, that didn't meet the current regulations, prompting the residents to face an unexpected disconnection from their gas supply provider.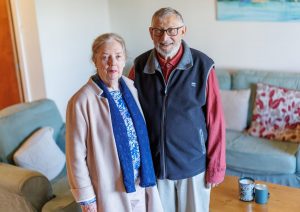 Noel found himself with little time to decide on the best course of action, concerned about the upcoming cold and damp winter for his tenants. Afterhaving an initial consultation with our Retrofit Advisor, Pearse Desmond, Noel decided that the heat pump approach was the best option for his apartment.
The Measures
Electric Ireland Superhomes recommended a range of measures which resulted in the apartment going from C1 to an A2 BER rating.
These measures included:
Minimal Insulation Upgrades
Replacing the boiler and water cylinder
Installing a heat pump
As an SEAI registered One Stop Shop, we look after the full process including contractor selection, project supervision and management of SEAI grant funding.
The Costs & Results
Apartment Owners, Noel and Alison were absolutely delighted with the results. Hugh Wallace, our brand ambassador, and David Flannery, our Head of Retrofit Advisory, visited the newly retrofitted apartment to see how the project turned out.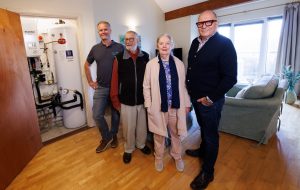 While showing the house to Hugh Wallace and David, Noel emphasized that the retrofit was done with minimal disturbance to the fabric of the property, with a final result looking really neat.
David, our Head of Retrofit Advisory, also explains that "there's actually no intervention other than a little skirting (for pipework) – it's incredibly tidy." David continues to say that: "This service was done in three days, and it can be possible for a lot of apartments where you don't have to do additional plumbing, and there's a space there to put your cylinder."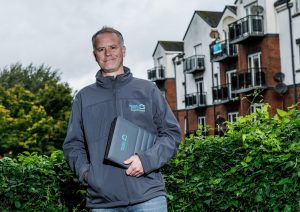 "We would recommend that you come to Electric Ireland Superhomes to see if there is a cost effective and quick heat pump solution for your apartment, your rented apartment, or if you're an approved housing body, there is a solution there for you as well."
The cost of the heat pump led retrofit was €15,800, less SEAI grants received €7,850, final cost after grant €7,950.
Reflecting on his experience with Electric Ireland Superhomes, Noel says that the whole process was just amazing because he almost had nothing else to do other than just sign one document and it was all completed for them and in no time at all.
If you're considering a retrofitting project for your property, reach out to us and discover how we can make your journey as seamless and efficient as Noel and Alison's. Upgrade your BER rating and enjoy a more energy-efficient future today!