The Story
Built in 2005, the external walls are of hollow block construction and before the retrofit, the home heating was run by a gas boiler and there was also an open fire. There was no zone-controlled heating system and no control of room temperature. With all Electric Ireland Superhomes retrofits, we remove fossil fuel from the existing home and install heat pumps along with a range of other retrofit measures to reduce carbon emissions and create a healthier, cosier home.  
Following a detailed survey of the home, it was noted that, in some areas of the attic, there was little or no insulation resulting in cold spots. In terms of airtightness, the windows and doors were also examined. The windows are double glazed which were installed at time of build and had gaps between panes and under window boards resulting in air leakage and draughts. It was recommended both windows and patio door needed to be replaced while the front door was a newer install and in good condition and therefore there was no replacement required. Airtightness is an important factor to make the home more suitable for a heat pump and so airtightness in general was addressed in the house. The lack of ventilation and the presence of cold spots (little or no insulation in places) contributed to poor indoor air quality and mould growth which was evident is parts of the house. 
The Measures
Electric Ireland Superhomes recommended a range of measures which resulted in the home going from a D2 up to an A1 rated home. These measures included: 
Install attic insultation top up and insulate velux tunnell to address cold spots.

 

Install external wall insultation

 

Fit new triple glazed windows & patio door. 

 

Seal the chimney to remove draughts and improve airtightness

 
Install a Mitsubishi Air to Water Heat Pump with full controls upgrade, 2 zones for heating and 1 zone for hot water. Five radiators required upgrading for new heat pump heating system.

 

Install an Aereco demand control ventilation system to improve indoor air quality 

 

Whist not necessary to meet the grant scheme target, Gary chose to add a 6 panel (2.4kWp) Solar PV sys

tem to improve the energy performance further and reduce the running cost of his home.

 
The Pre-works Air Tightness Level (Air Permeability) was estimated to be in the region of 8 to 12 m3/(h.m2) due to the construction type and condition observed during survey. It was recommended that works be carried out to reduce the airtightness level to be low 5 in order to ensure more efficient running of the heat pump heating system. A post works air permeability test demonstrated that a level of 4.5 was achieved.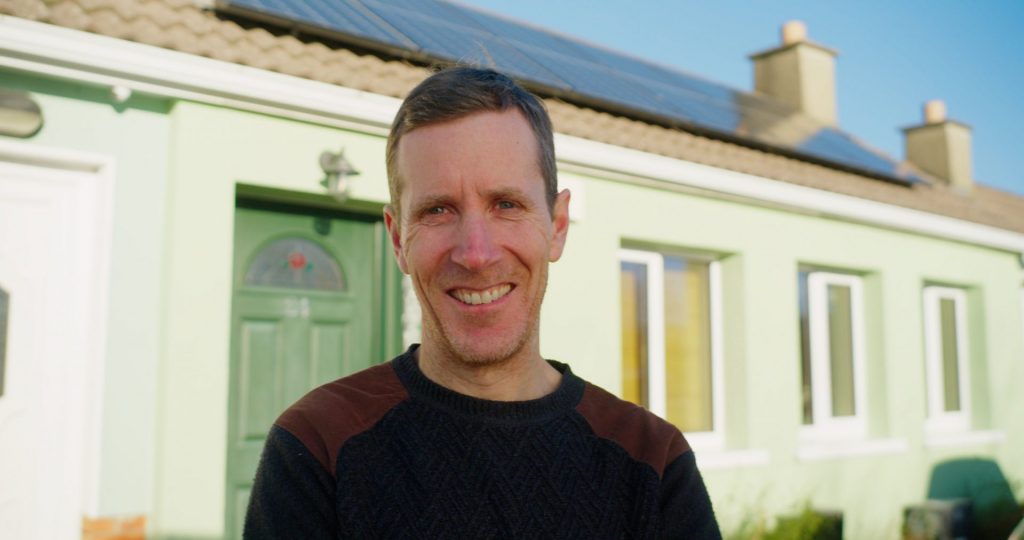 As an SEAI registered One Stop Shop, we look after the full process include contractor selection, project supervision and management of SEAI grant funding.  
The Results
Homeowner Gary is delighted with the result 'the benefits of having gone from a D2 to an A1, have been multiple. My energy bills have reduced, I'm no longer using gas for my heating, it's all gone to electricity now. My fossil fuel use has been reduced but definitely my bills have been reduced as well at the same time which is fantastic'.  
Speaking about his One Stop Shop experience through Electric Ireland Superhomes, Gary describes it as 'more efficient and easy and took all the headaches and hassle out of it for me and reduced everything so much so if you can, go for it!' 
Contractor: Greenwatt 
Video provided courtesy of SEAI