The Story
Comfort was also a big factor for Anja.  "When I bought the house it was dark and cold but now we have a comfier, warmer and brighter home. We have a constant, even and comfortable temperature at all times which is really great. I don't ever have to turn the heat on or off, there is always hot water and no worries about immersion, gas bills or having to call for an oil tank to be refilled."
The original house was built in 1929 and had a small flat roof extension to one side. There was an oil central heating system that was very inefficient. Before the works, the BER rating was G which led to very high heating bills.
The Measures
Works to Anja's home as part of this whole house retrofit included:
External wall insulation

Floor insulation

Attic insulation

New triple glazed windows and low energy front door

Solar Photovoltaic (PV) system installed on the roof

Removal of oil boiler and tank and replaced with air-source heat pump

Demand Control Ventilation System which improved the indoor air quality

Achieving an air tightness level of 4.7m3/h/m2@50pa
The Results
As a result of the Electric Ireland Superhomes deep retrofit Anja's home went from a Building Energy Rating of G to A2.
Anja has noticed more people have taken an interest in the house since the work has been done and it has even converted some neighbours to the merits of retrofit works including insulation.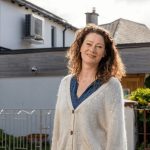 "There was an assurance knowing that Electric Ireland Superhomes have the experience over years in delivering retrofit projects. In terms of customer service, they were great to deal with and took care of all the paperwork which was also a big convenience."