The homeowners took part in the RTE programme 'My Bungalow Bliss' which saw Studio Red Architects reinvent this bungalow into a modern home with an emphasis on sustainability and energy efficiency. As part of the renovation team, Electric Ireland Superhomes supported Studio Red Architects on the SEAI home energy grants available for this 'whole house' retrofit. We work closely with architects and homeowner's own nominated SEAI approved contractor to advise on retrofit measures and SEAI grants. Building contractor Seamus Harrington was tasked with delivering this modern, energy efficient bungalow. 
A range of energy upgrade measures were incorporated in the bungalow design which resulted in lower energy bills and reduced carbon emissions. The four key aspects of this retrofit were; a 'fabric first' approach with significant insulation improvements, an air tightness strategy followed by mechanical ventilation and an air to water heat pump to provide sustainable heating and hot water.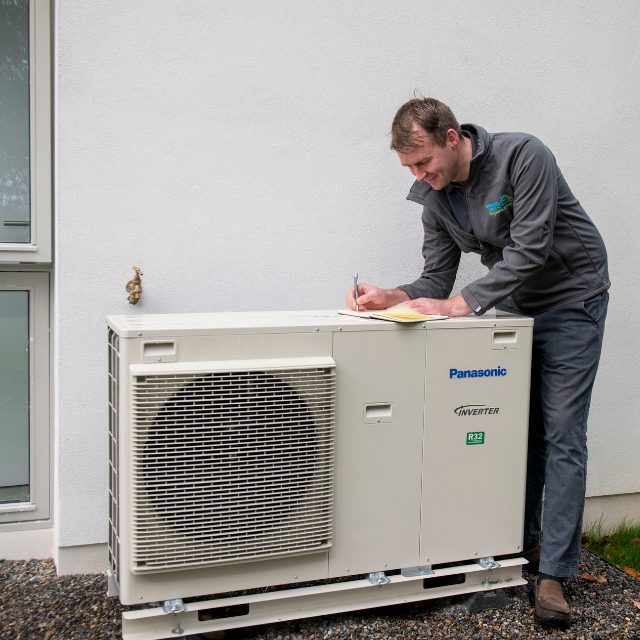 An air source heat pump is an essential measure in a Superhome so the existing heating system was removed and a heat pump installed with full controls upgrade – this delivers a comfortable, constant temperature in every room throughout the house of between 18 to 21 degrees.  Niki & Davin have experienced the benefits of the heat pump system, 'It is certainly a well thought out and well-designed system that gives you more time essentially to do things that are more important to you than worrying about the fire, the heating or the hot water'.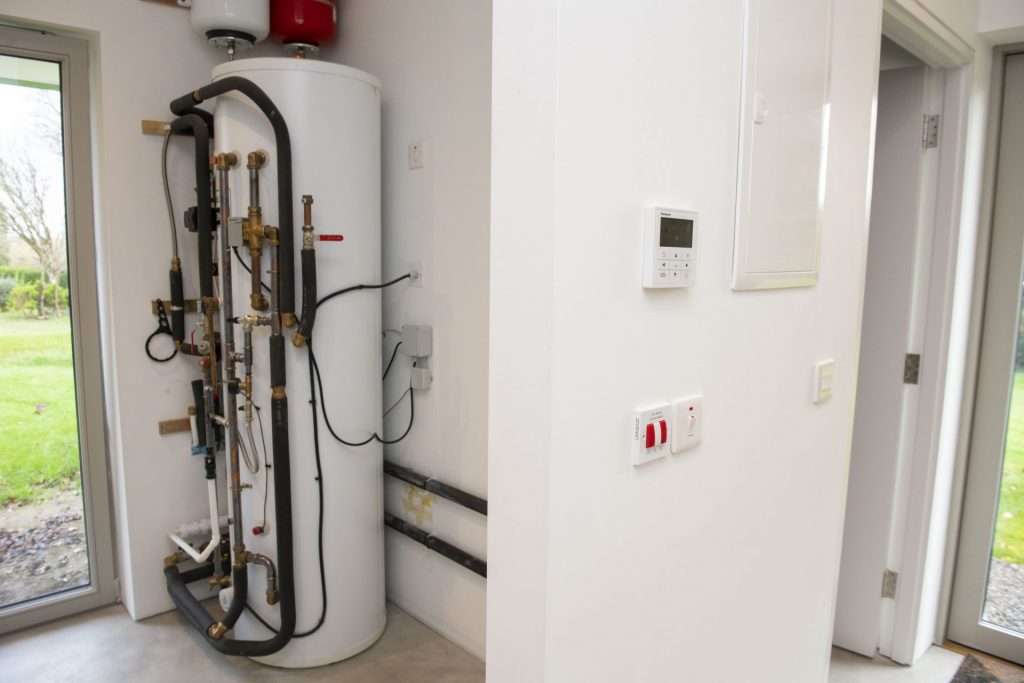 Other retrofit measures included insulation, airtightness and ventilation. The floors were insulated with 120mm Xtratherm, under floor heating added and finished with a polished concrete floor.  The original external walls were treated with 150mm Isover optima internal insulation.  The and attic were upgraded with 400mm of earthwool insulation. The vaulted ceiling in the living area had 150mm of rigid insulation between the rafters with a 62.5mm insulated plasterboard across to prevent any thermal bridging.  New double-glazed windows and new doors achieved a U value of 1.4 W/m²·K.   A whole house approach to a retrofit ensures that improvements are carried out in the right order and means that all energy upgrade measures complement each other.
To improve the indoor air quality of the home and to remove damp air, Aereco demand-controlled ventilation was installed. Demand control ventilation (DCV) measures the air quality of a home and adjusts the air exchange minute by minute, room by room, based on the actual need. DCV uses humidity as an indicator of air quality. Humidity levels increase as people breath, wash and cook in the home. The principal of operation is a humidity sensitive strip that accurately and consistently opens and closes the vents based on the relative humidity in that room.
Airtightness is not only vital for energy efficiency, it's also key for thermal comfort and for protecting a building's structure from dampness and mould. Speaking about the airtightness of their new home, Davin says 'it retains the heat once you put it into the building and that's costing us less and when it adds up, it is quite a significant saving over time. We were burning firewood, turf – very unsustainable in the long term'.
The combined retrofit measures produced remarkable results. The BER rating of the home went from an F to an A2 rating. The standard building airtightness test is 7m3/(h.m2) @50Pa, this home's final result was 0.94m3/(h.m2) @50Pa – in layman's terms 7 times better than the average airtightness result of current building regulations for a new build.
Speaking about their Electric Ireland Superhomes experience, Niki & Davin said 'Electric Ireland Superhomes managed the full grant process, we filled out a form at the start and they managed the process from there. We could never imagine living in a home that is not a Superhome now".
Describing our consultancy service, Studio Red Architects said "Electric Ireland Superhomes streamlined the grant application process for our clients.  They carried out the pre and post BER ratings and a series of site audits during the build.  The net result was a high performing home for our clients, at a reduced cost".